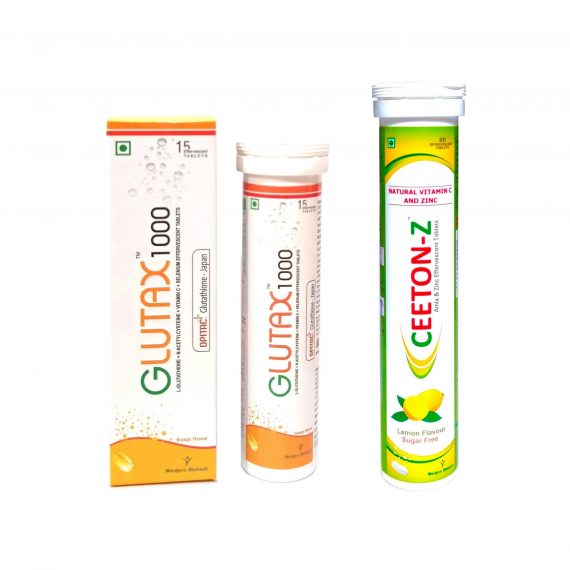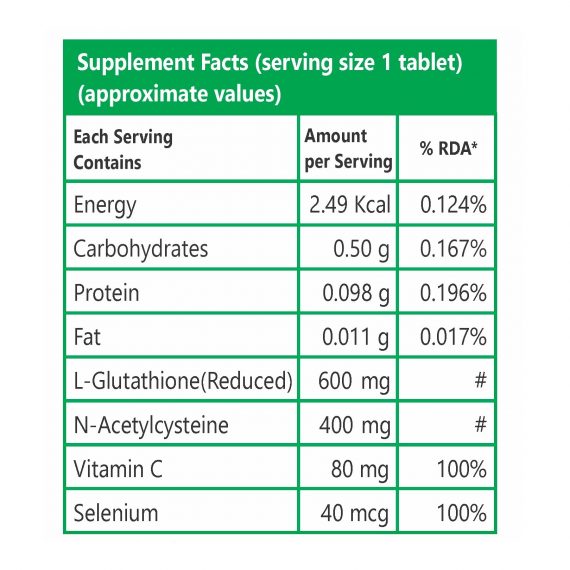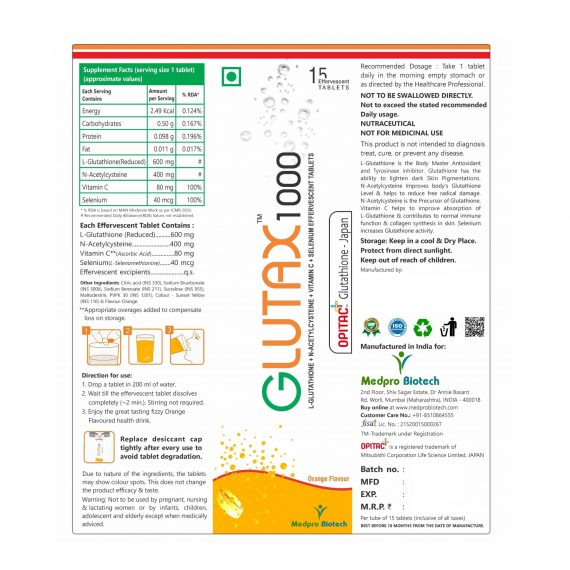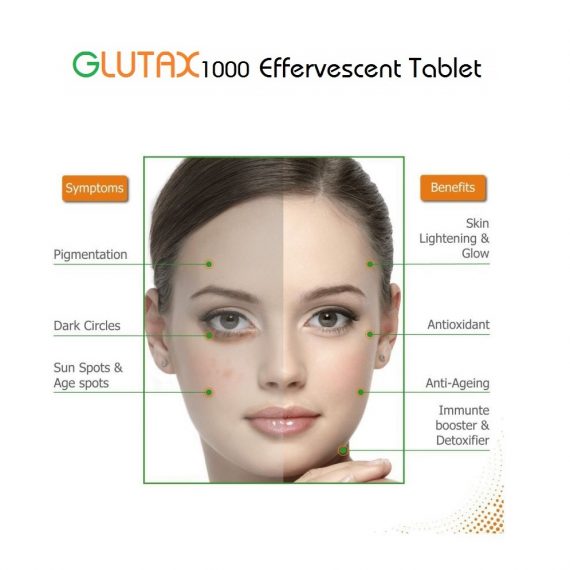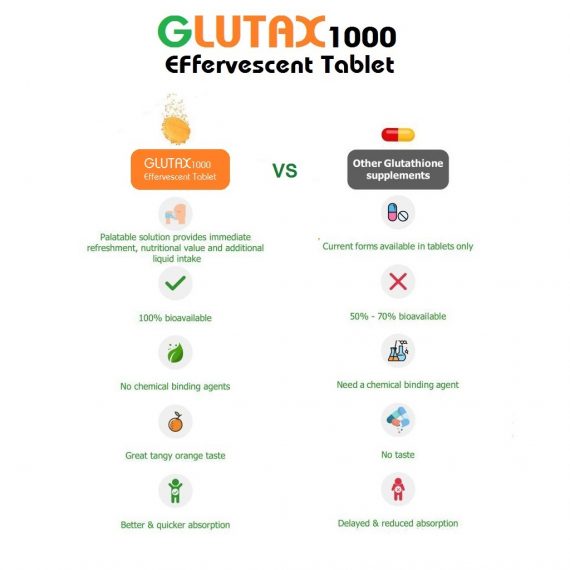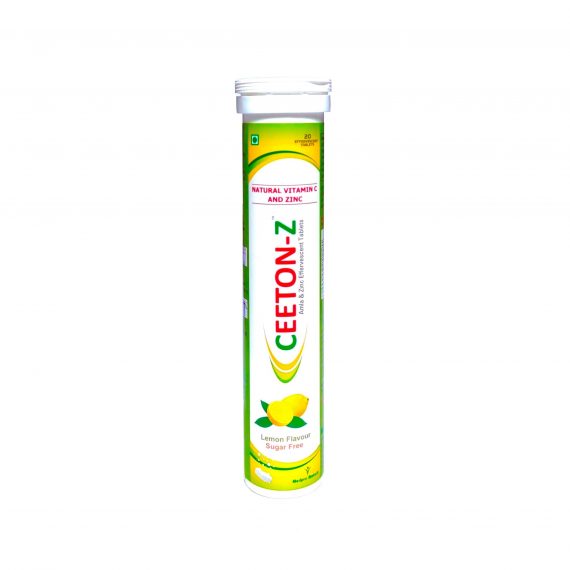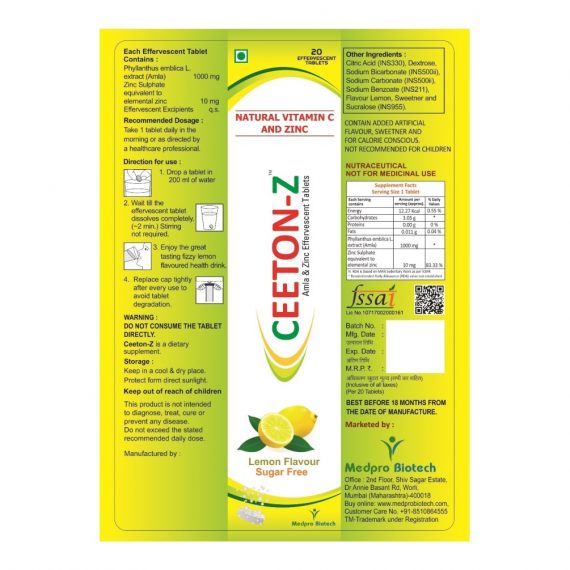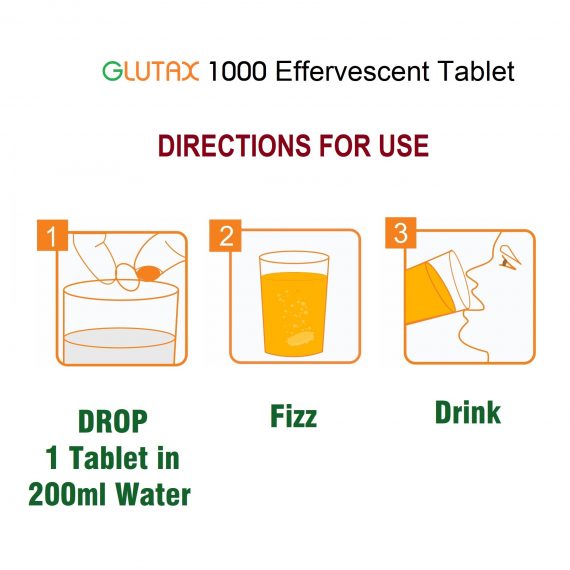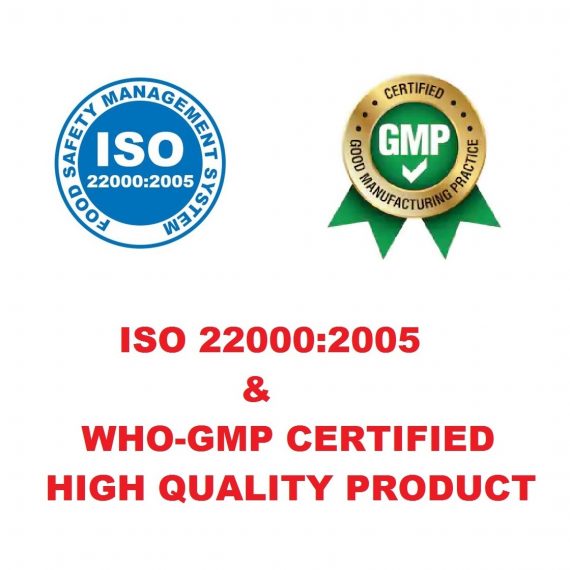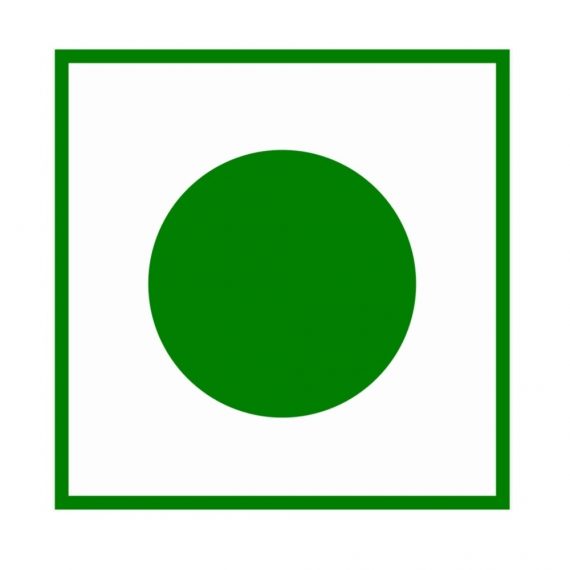 Glutax 1000 L-Glutathione 1000mg with Ceeton-Z Lemon Eff. Tablet | Made with Japanese Glutathione | Skin Lightening & Brightening | (Pack of 1)
₹2,897.00

997 in stock
Description
Glutax 1000 is Combination of L-Glutathione (Reduced), N-Acetylcysteine, Vitamin C & Selenium Effervescent Tablet. It contains world's best Glutathione, "OPITAC Glutathione-Japan". Glutathione levels in body decline with age and hence supplementing Glutathione orally is important to ensure healthy aging. It works by encouraging production of lighter melanin pigment (pheomelanin) over its darker counterpart (eumelanin). Orally consumed Glutathione effectively brighten the skin and its regular consumption also helps to boost immunity, stamina and detoxification. The ingredients in Glutax 1000 are FDA, FSSAI & GMP approved.
Key Ingredients:
• L-Glutathione(Reduced) – 600 mg
• N-Acetylcysteine – 400 mg
• Vitamin C – 80 mg
• Selenium – 40mcg
Ingredients & Its Benefits :
L-Glutathione :
• It is essential for various cellular functions
• Improves skin tone in both exposed & covered body parts
• It is a master anti-oxidant
• Reduces Wrinkles
• Higher dose of Glutathione offers faster results
• Supports Immunity
• Potent Antioxidant
N-Acetylcysteine :
• Improves body's Glutathione Level
• Precursor of Glutathione
• It acts as an anti-oxidant
• Helps to reduce free radicals
Vitamin C :
• Helps to improve absorption of Glutathione
• Contributes to normal immune function & collagen synthesis in Skin
• It is an essential water soluble Vitamin
• Helps to increase intracellular stores of Glutathione
• Works in synergy with Glutathione
Selenium :
• Increases Glutathione activity
• Prevents pathogens entry in the cell
Used for:
• Gives Skin Lightening & Brightening
• Reduce Hyperpigmentation & Melasma
• Treats Photo aging
• Improves uneven skin tone
• Reduces Wrinkles
• Improves skin tone in both exposed & covered body parts
• Potent Antioxidants, Supports Immunity & Detoxification
CEETON-Z EFFERVESCENT TABLET:
Key Ingredients:
• Phyllanthus emblica L. (Amla) extract (Source of Vitamin C) – 1000 mg
• Zinc – 10mg
Benefits of Ceeton-Z:
• Potent antioxidant
• Boosts immunity and skin health
• Increases production and transfer of anti-ageing protein
• Exerts photo-protective effects by neutralizing free radicals
Used For :
• Boosting immunity
• Preventing infections
• Photo ageing
• Post procedures
How to use:
• Drop tablets in 200ml of water
• Wait till the effervescent tablet dissolves completely
• Enjoy the Orange flavored great tasty fizzy health drink
• Replace the cap tightly after every use to avoid tablet degradation
Recommended Dosage:
• Take 1 tablet each of Glutax 1000 and Ceeton-Z daily in the morning on empty stomach for better results.
Safety Advice:
• Recommended dose is one tablet daily in the morning or as directed by the physician.
• Due to nature of Ingredients, the tablets may show colour spots. This does not change the product efficacy & taste
• Not to be swallowed directly
• Not to exceed the recommended daily usage.
• Keep out of the reach and sight of children
• Store at temperature not exceeding 30°C
• It should be used with caution in pregnant women. Consult your doctor before taking.
Additional information
| | |
| --- | --- |
| Weight | 0.150 g |
| Dimensions | 18 × 10 × 9 cm |